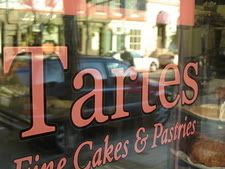 Don't bother trying to google this quaint little bakery. For some reason, I find nary a mention in any local publications or any semblance of advertisement. Could it be the product's dubious quality? Far, far from the truth. Tartes bakes-up some of the most scrumptious individual pastries I've had in Philly, each one more delicious sounding than the last. At their very modest shop at 212 Arch St., a tiny window full of items is all that is for sale; I wouldn't be suprised if people leave with the whole lot. Most of their business comes from the sales they make to restaurants (I guess), but when I asked they only named a few -- Monk's was one that I can recall.
What's funny about Tartes, is that not only has the bakery managed to isolate themselves between two parking lots on an otherwise bustling block, but they've also chosen the oddest little building to set up operation. Usually a hole-in-the-wall operation makes food comparable to its surroundings, which is why I found Tartes to be so odd. When I walked up to the window, I saw
that the owners had put much more care into their kitchen, decking it out with some Kitchen-Aid Professional stand-mixers and bountiful stainless steel bakeware. The stuff was certainly kind, but I felt like a waiter who had poked my head into the kitchen to call for an order. Having heard on Chowhound (where else), that the Key Lime Pie was impeccable, I ordered one of those and two cookies: Chocolate Chip, for my dad, and a glazed Pumpkin Spice for me. The pricing was less modest, around $4.75-6.25 for Tartes and $1.50 for cookies, but nothing to scoff at.
I gobbled down half of the Pumpkin Spice cookie, amazed at how cakey and soft the interior was. The speckled brown sugar glaze was awesome, and caused me to attempt a replication in my own kitchen (see results here). The other half was periodically disappearing as I dodged traffic on the way home. The pie was of equal merit, tart and sweet with a fantastic crust. It was almost too lemony tart for my taste, but anyone in my house who managed to cadge a nibble agreed it was pretty damn good.
I must return to Tartes to sample some more of their goods, you know, for research purposes. This is my first in a series of bakery posts that will chronicle my noble quest to find the best pastry our city and its regions have to offer. So far, Tartes is definitely one of the top bakeries for individual desserts, better than Pink Rose Pastry Shop if you ask me, maybe better than Petit 4 Pastry. Check out some more reviews of individual items (hopefully I'll have some viewable menus soon!) over in the photo album section.